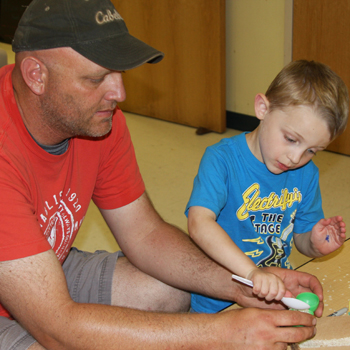 Research has established that male role models play an important role in the social, cognitive, and mental health development of children.
Empowering Fathers
YFS Fatherhood First program helps fathers understand and embrace the vital role they play in their children's lives.
Fatherhood First offers hands-on programming for fathers or father figures and their children.
Services & Activities
• Father/Child Activity Nights - Fathers or male role models and their children participate in quality, hands-on activities organized and provided by staff. These events promote social skills, enhance child development, and strengthen the bond between a father and his child.
• YFS Fatherhood First staff members also provide individualized home visits to families enrolled in YFS programs.
Program Goals
• Encouraging fathers and positive male role models such as uncle, grandfather, step-father, etc. to fill the masculine care-giving void and provide the child with a masculine point of view
• Promoting the cultural shift that supports men being emotionally connected to their children through training, role modeling, and awareness
• Educating female staff and practitioners about the benefits of a male presence to a child
• Understanding and helping mothers with negative feelings about men and fathers
• Including mothers in some elements of fatherhood programming in order to maintain good relationships among parents
• Offering advocacy services; peer to peer mentorship; and outreach programming
Contact Fatherhood First
Stop In At Our Location
Youth & Family Services
120 East Adams St.
Rapid City, SD 57701

Call Us
605-342-4233
Send Mail
Youth & Family Services
Fatherhood First
PO Box 2813
Rapid City, SD 57709-2813

Trainings
YFS Fatherhood First staff offers trainings to other professionals that work with fathers and families in order to disseminate information, provide strategies and share resources.
Dads 4 Dads
The Dads 4 Dads group, offered through the YFS Counseling Center, allows staff the opportunity to work with fathers who are separated from their children. This six-week course teaches fathers how to communicate, engage, and align with their children, even during a physical absence. This class is offered at YFS' Counseling Center as well as the Pennington County Jail.
This program has helped me to take notice of my children's every move....Even when I think I'm not doing anything, they're watching and learning....