About Girls Inc.
Girls Inc. of Rapid City was founded in Rapid City in 1965. YFS Girls Inc. serves girls, ages 6-17, by providing fun, educational and recreational activities to girls after school and each weekday during the summer months.
Our programs highlight community action, sports, health, careers, and life planning. These programs also celebrate members' cultures and heritages and encourage the girls to develop self-reliance and life skills. YFS Girls Inc.'s center-based and age appropriate activities are implemented in a challenging and creative environment.
---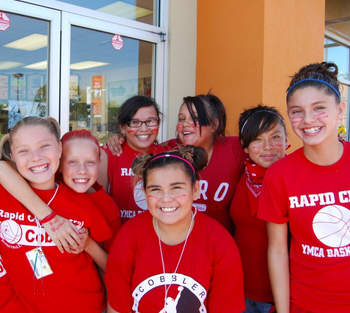 Programming Hours Listed Below
School Year
Monday through Friday,
2:30 p.m. to 8:00 p.m.
Summer Months
Monday through Friday,
7:45 a.m. to 4:00 p.m.
Membership Information
Membership is $50 per year and is open to girls ages 6-17. Scholarships are available.
• Membership includes meals and snacks, excursions to locations throughout the Rapid City and the Black Hills, and in some instances transportation from local schools to the YFS Girls Inc. site.
• Visitors may attend twice as guests before a full membership is required. Visitors must fill out a guest form before checking in.
• Members must be able to state/spell their name, age, and grade when checking in.
Contact Girls Inc.
Girls Inc. of Rapid City
120 East Adams St.
Rapid City, SD 57701

Call Us
605-341-5010
Send Mail
Youth & Family Services
Girls Inc. of Rapid City
PO Box 2813
Rapid City, SD 57709-2813

Health Connections
Health Connections is a referral-based program offered to girls, ages 5 to 15, with unmet health needs. This program addresses physical, mental and social health needs by connecting girls with service providers in the community. Girls are referred to the program by school counselors, teachers, parents, and health and social service agencies.
Each girl is assigned an advocate who will:
• Connect her with the appropriate medical, dental, and mental health care services within the community.
• Offer referrals for tutoring or other services to meet her individual needs.
• Work closely with her family and school to ensure her success.
• Assist her in learning and developing patterns of behavior that will enhance her health.
• Emphasize the value of regular school attendance and good study habits.
• Instill the importance of responsibility, self-esteem, and community involvement.

Operation Smart
Operation SMART helps develop girls' enthusiasm for and skills in science, technology, engineering, and mathematics (STEM). Through hands-on activities, girls are given the opportunity to explore, ask questions, persist, and solve problems.
Key Components
• Assume girls are interested in science, math & technology
• Let girls make big, interesting decisions
• Help girls get past the "yuck" factor - let them get their hands dirty and conduct experiments
• Expect girls to succeed

Literacy
Girls in grades K-3 who have been identified as reading below grade level are eligible to receive extra hands-on activities and support to increase their skills and help them form good study habits.
This window of time is especially crucial as research has shown that children who are not at grade level by third grade will continue to struggle in school, are more likely to fall behind, and are less likely to graduate than their peers.
Girls Inc. Bill of Rights
• Girls have the right to be themselves and to resist gender stereotypes.
• Girls have the right to express themselves with originality and enthusiasm.
• Girls have the right to take risks, to strive freely and to take pride in success.
• Girls have the right to accept and appreciate their bodies.
• Girls have the right to have confidence in themselves and to be safe in the world.
• Girls have the right to prepare for interesting work and economic independence.